Duty unpaid imported goods can be stored at a Customs Bonded Warehouse or FTWZ and be sold / transacted in the domestic market or re-exported. We have extensive experience and expertise in handling of Bonded Cargo.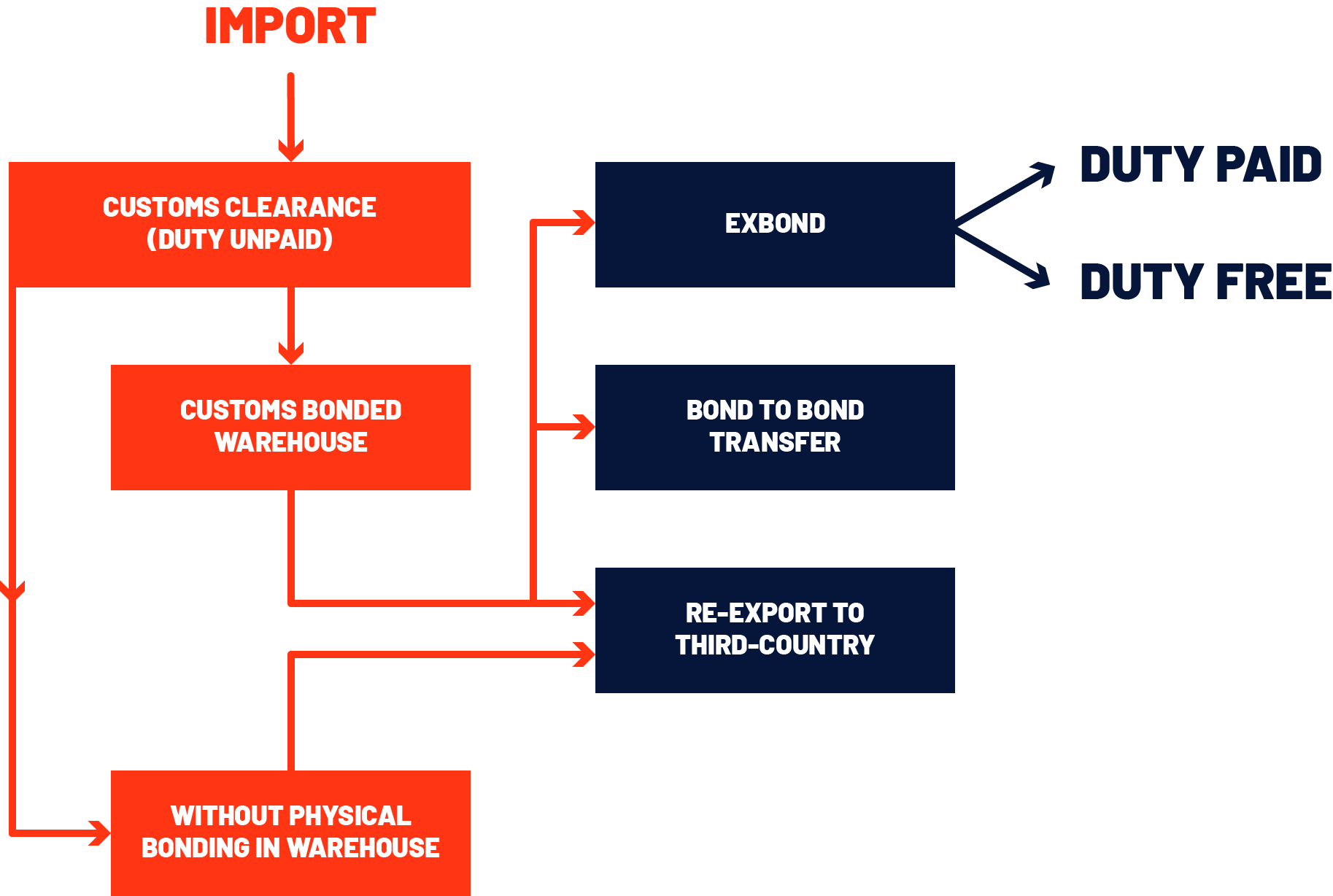 In-Bond Import Clearance Without payment of Customs Duty
Services for bonding of import cargo (Sea or Air, LCL or FCL) into the designated Customs Bonded Warehouse, without payment of customs duty.
Includes Import Customs Clearance, Bond Procedure, Handling & Transportation for delivery from port / CFS into the customs bonded warehouse under OTL Seal and Transit procedure, without payment of customs duty.
Labelling and other compliances, sampling and NOCs such as MRP labelling, FSSAI NOC, AQ Final NOC and so on can be procured after depositing the goods into customs bonded warehouse and avoiding container detention and demurrage.
Allied value-added activities such as permitted labelling, repacking, etc can be performed at the customs bonded warehouse upon taking necessary permissions.
Ex-Bond Clearance for Home Consumption
Services for Ex-Bond (under Home Consumption) supply of cargo from a customs bonded warehouse to the Domestic Tariff Area (DTA) under Duty Payment as well as against Duty-Free License.
Exbond against payment of Duty and applicable Interest
Exbond against License / Scrip
Bond to Bond Transfer/Sale
Services for Bond-to-Bond transfer (BTBT) for movement of cargo from one bonded warehouse to another under Customs OTL seal and transit procedure or a duty-unpaid sale from one party to another involving change of ownership.
There are primarily 3 types of B2B transfers:
Bond to Bond in transit (from one warehouse to another - same owner)
Bond to Bond with Change of Ownership (sale within the same bonded warehouse)
Bond to Bond in transit with Change of Ownership (sale from one bonded warehouse to another)
Re-Export of Imported Cargo
Services for Re-Export of imported cargo from a customs bonded warehouse (duty-unpaid) OR re-export of imported cargo directly from the port to a third country.
Re-Export of whole or part cargo
Includes Customs Clearance (Import and Re-export), Bond Procedure (in & out), Export Stuffing, Handling & Transportation from the customs bonded warehouse / port to any international seaport/airport including the Shipping / Freight Forwarding upto final destination.
E.g.: Srilanka (Colombo) -> Nhavasheva -> Bandar Abbas (Iran)
Or France (Le Havre) -> Nhavasheva -> Male (Maldives)
Customer can also hold inventory of the duty unpaid goods in the Customs Bonded Warehouse and supply duty-unpaid stock to nearby countries such as UAE, Sri Lanka, Singapore and others.
Each consignment can be kept in a Customs Bonded Warehouse for a period up to 12 months from the bond date. If the goods are not sold within this period and there is balance stock in that consignment, then the bond extension needs to be obtained from Customs for the following 2nd or 3rd year of storage against submission of Bank Guarantee.
Assistance and guidance for application and obtaining of extension of warehousing period for Expired Bonds
Customs Bonded Warehouse Storage Options
Customs bonded warehouse storage, handling and inventory management
Per shipment / Per container storage space
Reserved fixed area storage space
Private / exclusive bonded warehouse storage space
Inventory management and PO / order management
FTWZ (Free Trade Warehousing Zone) is considered as a separate port and is a deemed foreign territory. It is governed by the Special Economic Zones (SEZ) Act, 2005 and SEZ Rules, 2006 and is operated through the SEZ Customs Operating System.
We can handle the below services at Arshiya FTWZ for a Unit Holder or for a Client of a Unit Holder.
In-bound clearance of import consignment into FTWZ
Out-bound clearance of cargo from FTWZ to DTA (Domestic Tariff Area)
Re-Export from FTWZ to overseas buyers
FTWZ to Customs Bonded Warehouse or Customs Bonded Warehouse to FTWZ